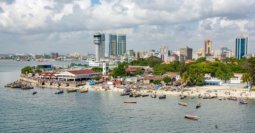 [Editor's Note: Today's Note from the Field comes from Sovereign Man Team Member Joe Jarvis who recently climbed Mount Kilimanjaro in Tanzania.]
For some people it starts with loss of appetite. Others get a headache and nausea.
Pole, pole is the motto, climbing Mount Kilimanjaro-- slowly, slowly. At an altitude of 5,895 meters (19,340 feet), you can definitely feel the lack of oxygen on Africa's highest mountain.
And while the tourists huff[...]
Click here to continue reading