February 1, 2010
Boquete, Panama
It's almost like you're not in Panama.
Isolated in the Chiriqui highlands of Panama's western-most province, the town of Boquete might as well be in a different country.  Practically all you hear is English– the local Panamanians have excellent language skills, and there are more gringos per capita here than just about any other place in Panama.
To give you an idea of what I'm talking about, the town's population quadrupled in size between 2000 and 20008 to approximately 20,000 people. Nearly all of the new residents were foreigners.
This has had an interesting affect on the town. Many of the local businesses, such as tour companies, bed-and-breakfasts, restaurants, and spas, are owned/operated by foreigners.
In developing countries, foreigner businesses tend to be of higher quality and professionalism than their local counterparts.  In a major city like Panama City, though, the market is large enough that local businesses can maintain market share without having to adapt or compete.
In small towns like Boquete, however, the locally-owned businesses have had to raise their standards in order to compete with foreigners. The net effect is a town where quality and efficiency are the norm rather than the exception, and this is a major contrast to the slight bureaucracy of Panama City life.
Other contrasts between Panama City and Boquete are clear– the air is cleaner and the weather is much cooler up here in the mountains. You don't see too many air conditioners and don't really need one either. In the evenings, sometimes it can even get chilly, which is a major change from the blistering heat and humidity of the city.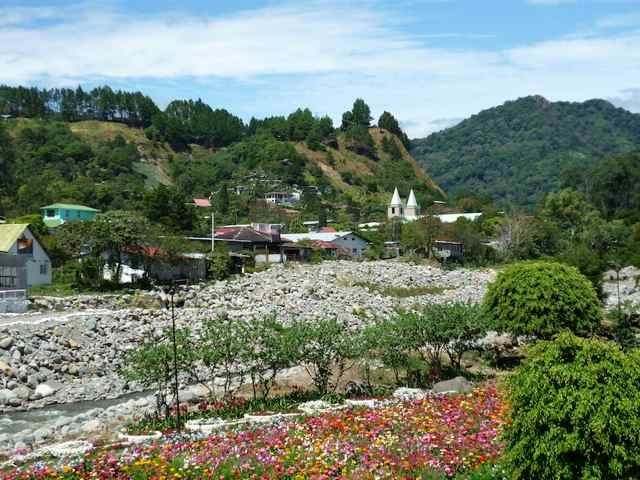 The lifestyle in Boquete is also much quieter and laid back. Like any big city, Panama City can be very fast-paced and superficial; it's loaded with all-night discos, casinos, parties, hookers, and people caught up in the rat race money game of who has the fanciest car or patronizes the more expensive restaurant.
Boquete is the antithesis.
If this sounds appealing to you, you should be aware that there are some tradeoffs. Namely, Boquete is much more remote– in total, between the airport transfer, flight, and drive, it takes about four hours to travel from Panama City to Boquete door-to-door. Don't underestimate what a pain this can be.
Second, if you have medical concerns and want to be close to a quality western hospital, you should cross Boquete off your list. There is a private hospital about 40 minutes away in David, the nearest major town… but it's old and not particularly well-equipped. Panama City's marquee facilities are leaps and bounds better.
Overall, for the right person, Boquete works really well… it's basically what a small version of Asheville, NC would look like if it were transplanted to Central America– there are spectacular vistas, clean air, organic food, lots of art, great weather, and an open, friendly, hippied attitude that pervades the local culture.
In fact, the expats in Boquete are a very accepting lot (though a bit cliqish), and this is one of the easiest places in the world to strike up a conversation that starts with a simple "where are you from?"
If you decide to come check out Boquete, I highly recommend that you stay at the Boquete Garden Inn–at around $99/night, it's one of Panama's finest boutique hotels.