The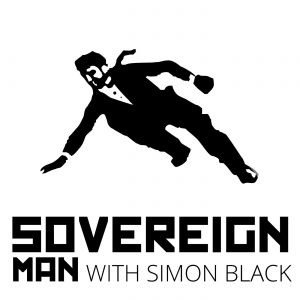 Sovereign Man podcast is devoted to giving you insight on how to enhance your personal liberty and financial prosperity. Listen in as Simon Black and guests such as Peter Schiff and Jim Rickards talk about the fraudulent monetary system, gold, how to secure your future prosperity, and more.
For those who are new to podcasts, a podcast is just like a radio show or an audio blog post. Each week, Simon releases a new episode in which he dives in to current economic and political developments in the context of highly enlightening historical examples, key trends to look out for, and the best steps you can take to maximize your freedom and prosperity.
You know you won't want to miss an episode, so be sure to subscribe so that the latest episodes are automatically downloaded to your device without requiring any extra effort. Here are some of the easiest and best ways to do just that.
Depending on when and how you like to listen, you can get Sovereign Man on your phone (iPhone, Android) or on your computer (through iTunes, or just by clicking on the podcast section of Sovereign Man).
Take a look at our quick start infographic and scroll down for more detailed information
Happy listening!

How To Download Podcast episodes on iOS devices (iPhone, iPod touch and iPad):
Make sure you have the latest version of iOS installed on your device, and that you are connected to Wi-Fi or a cellular internet connection.
Open the podcast app on your device.
Search for "Sovereign Man" in the podcast app and tap it to open the podcast episode list.
Tap "subscribe" so you can stay up to date with all of the new Sovereign Man podcast episodes, or
If you'd like to listen to a previously published episode, simply tap on that episode and enjoy!
Sovereign Man on Android devices:
There are many different kinds of podcast apps in the Google Play store that you can download on to your device (some free, some not) that allow you to subscribe and listen to Sovereign Man podcasts. Some include PlayerFM, Podcast Addict, Pocket Casts, and Beyond Pod. Here is the simplest way to subscribe on most podcast apps:
Open your preferred podcast app on your Android device
Open the menu and search for "Sovereign Man" or
Input the url: www.sovereignman.com/feed/podcast/
Open Sovereign Man and from here you can subscribe, or
Scroll down for a list of our previously published episodes, select one, and play!
Sovereign Man on your computer:
There are several ways to find, subscribe, and listen to Sovereign Man on your computer. Here are a few:
On Sovereignman.com:
Go to the Sovereign Man podcast page
Click on the episode you'd like to listen to and press the play button.
To download the episode click "Download" then right-click the media player and select "Save as…"
On iTunes:
Open iTunes on your computer or click here.
Search for "Sovereign Man".
Under the podcast section you will see Sovereign Man with Simon Black— click on it.
Once it is open, click on the subscribe button to get all of our new episode automatically, or
Select from our list of any previous episodes you'd like to listen to, click play on that episode, and enjoy!