I'm writing today from an extraordinarily beautiful place…
The infinity pool where I sit is perched atop an emerald-azul lagoon encased by rocky cliffs and pristine wildlife. It's dusk. and it's quiet.
The word "paradise" would come to mind if I could stop absorbing the beauty long enough to form a complete thought.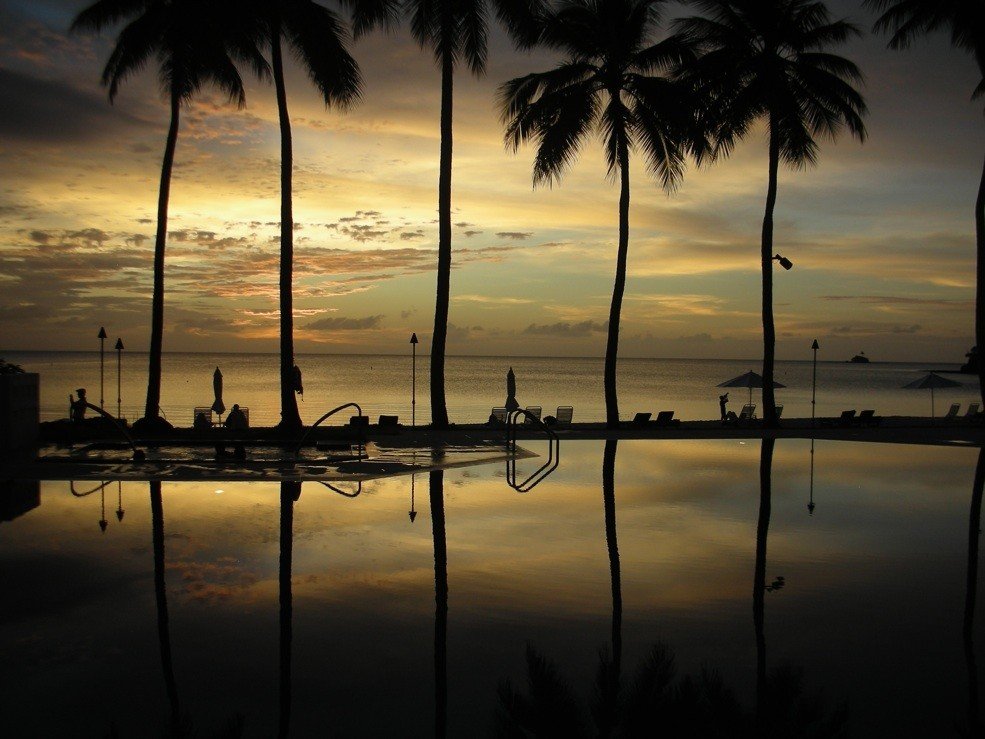 I'll give you a few hints… my undisclosed location is in the south Pacific. It's a small island nation that is still quite native in many ways. Most importantly, it is undergoing a serious economic crisis– tourism, foreign aid, and even the fishing and agricultural sectors are under attack.
They need help, and that's why I'm here.
We feel a bit like the A-Team. The Asian Development Bank, IMF, etc. have all been through here in the past spewing the same bureaucratic garbage that has always failed in the past. This country needs fresh, unique, actionable ideas, and they have a philosophically sound leader in place who is willing to listen.
Hours ago, my colleagues and I had the opportunity to present our strategies for economic growth to a large audience that included the president of the country, his governors, and the council of chiefs. Naturally, our proposal is based on principles of free market economics– ideas which all leverage and essentially privatize the country's greatest asset: it's sovereignty.
The presentation was exceptionally well-received, and I have reason to be hopeful that the leadership here will allow us to execute the plan. If that's the case, this country will be the freest in the world within 2-years.
It's a project that I am excited to be a part of, and certainly one of the more interesting things that I have participated in so far. You will certainly recognize the names of the other players involved, but alas I am sworn to secrecy for the time being.
Stay tuned, because when I break the story there may be significant benefit in the deal for you.
In the meantime, I must confess that I have been away from the markets for a few days– internet is still very spotty here and generally unreliable (yesterday's missive was in fact prepared well in advance), so I have just found that gold prices are once again inching towards $1,000 / ounce.
How high it could go in the short-term is anyone's guess… I would certainly not make any immediate predictions and anyone who does is kidding himself. I tend to invest in major trends with a longer horizon and ignore the day-to-day ups and downs of an irrational market.
After all, I firmly believe that I'm never going to be 100% up if I'm not willing to be 20% down.
That being said, I am a long-term believer in gold. There are certainly better investment opportunities to generate an enormous return, but given gold's safety as a legitimate store of value, I can think of fewer assets to park cash, particularly during times of significant uncertainty.
(As an aside, I am also a huge buyer of strong growth equities that are trading for less than cash value.)
I'm guessing that you probably agree and are already stockpiling your own physical wealth. As we have discussed before, this presents unique challenges, particularly secure storage.
So today, as a special thank-you for being a subscriber, I'd like to give you a free gift– it's something that I put together a few days ago when I was running around Manila looking for gold dealers.
It's called "How to move and securely store gold overseas," and it's hot off the presses. It's fairly short, but the information in this book is actionable. I've even given away a couple of freebies that you won't find anywhere else.
I think you'll like it, though I ask for your feedback for any missing or requested information to discuss further.
I'm headed back to Manila in a few hours and will be headed to Singapore this weekend and hopefully Kuala Lumpur as well… so I should have very interesting things to report next week.