Travel mishaps occur from time to time… though the airline completely losing my reservation is a new one for me.
I was all set to leave Europe a few days ago when a rather unfortunate 'booking oversight' derailed my plans for spending the weekend in New York City. In this case, I was 'stuck' in Poland.
Not to worry– I realized at the airport that, despite having spent over a week here in the past month, I've hardly mentioned a word about Poland… so I decided to make the most of my extra time and dig around for some useful information to share.
Warsaw is the country's largest city, it's capital, and commercial hub… and it's about as plain a city as can be. Soviet architectural influence (i.e. concrete shoe boxes) still dominate the cityscape, similar to other major cities that used to be behind the iron curtain like Minsk and Bratislava.
In Warsaw's case, the city had to be rebuilt from scratch– 85% of it was demolished in World War II as a result of the German invasion in 1939, as well as reprisal for the Warsaw Uprising and Warsaw Ghetto Uprising towards the end of the war.
Frankly, I wouldn't want to live in Warsaw for any period of time… it lacks beauty and cultural vibrance and is far too overrun with drunken sex tourists looking for red light apartment brothels.
For Poles, however, the city represents an island of stability in otherwise perilous economic waters. The troubles have largely sidestepped Poland due to its large market, production capacity, monetary independence, and domestic consumption.
There was never a wild asset price boom, uncontrolled credit expansion, or dependence on exports to drive growth. In fact, Poland is widely expected to post positive, albeit infinitesimally small, GDP growth this year.
It shows.
Poles are still working, still investing, and still consuming. You don't see the telltale signs of bust anywhere– closed shops, liquidation notices, and endless 'for sale' property listings.
For an even deeper perspective, I hopped in the car and drove to Krakow; the journey takes a painful 5-hours across congested side-roads, but the government is in the process of building a high-speed freeway to link the two major cities.
Unlike Warsaw, Krakow wasn't hit during the war and retains its old-world charm. Nestled between Carpathian and Tatra mountains, the surrounding landscape consists of rolling hills, green fields, and distant mountain views… very complementary of the architecture.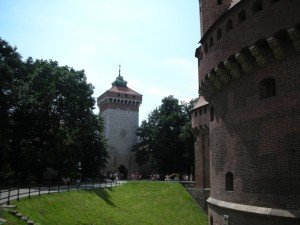 Krakow's main city square is alive with bustle. Restaurants were packed and the streets were filled with tourists, both Polish and international… indicative of Poland's price competitiveness as well as the available disposable income of Poles.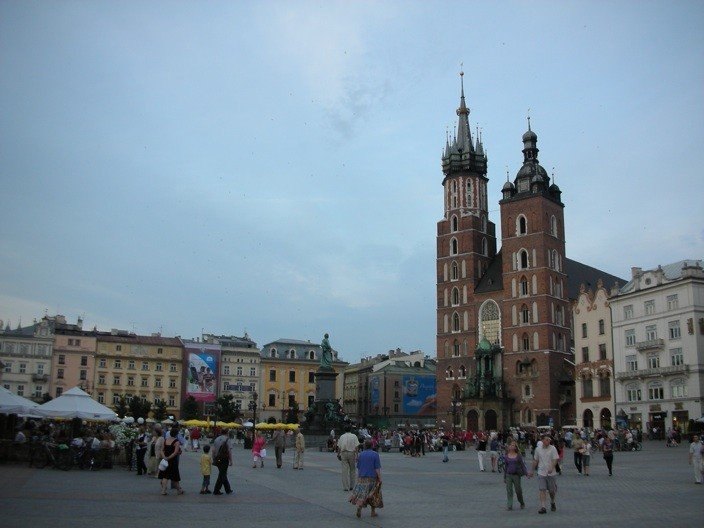 I also noticed something in Krakow that I had not seen in quite some time: job postings. Several multinationals, including Google, have moved to town and are hiring… not huge numbers, but there are jobs available, especially for new college graduates.
This observation is in line with Poland's official figures which report unemployment at around 8%, lower than the EU average of 9.5%.
Living costs in the area seemed quite reasonable to me at 3 Polish Zloty per dollar– staple grocery costs are 10% to 20% less than in the United States, and even high end consumer electronics like flat screen televisions and laptops are cost competitive with the west.
Moreover, a nice 2 bedroom flat in Krakow can cost less than $1,000 per month… very reasonable.
Overall my impressions of Polish costs make me very bullish on the Zloty, but I will need to do more research before buying. I recognize that the government is coming under some budgetary pressure, though this is in line with nearly every other world government.
I should also mention that I took time to visit the Auschwitz museum, about 70-km from Krakow… it was well worth the extra effort and certainly filled my head with philosophical musings.
Walking around the blocks where untold thousands died at the hands of brainwashed German oppressors, I wondered how does a government instill so much fear that it can turn an ordinary man into a murderous thug?
And 70-years ago to the day, surrounded marauding by German forces on three sides, how could the Poles be complacent enough to not make preparations for the coming crisis?
I wondered… what was their breaking point?