January 13, 2012
Manila, Philippines
[Editor's note: Tim Staermose is filling in today while Simon is down on the farm in Chile.]

Amid all the doom and gloom in the world economy as insolvent western nations slowly suffocate under a mountain of debt, it's easy to forget that there are places in the world that are still BOOMING.
I went out to dinner with a friend in Manila last night. Each of the first three restaurants we wanted to go to were completely booked. There is construction everywhere in Manila's central business district. The roads are chock full with bumper-to-bumper traffic. Shops are full. People are spending money.
My dinner companion last night is an executive with a major international bank. He's new to the country, and on Wednesday was given a tour of the stock exchange. As he stood on the trading floor, the Philippines' benchmark PHISIX index hit an ALL TIME HIGH.
The government's fiscal balance is improving, not deteriorating. 20% of the funds earmarked for "stimulus" last year are still in reserve. They simply weren't needed.
Like in most of the world, benchmark interest rates are at an all-time low. The difference is that, unlike in the west, banks are confident to lend, and consumers are confident to borrow and spend. Commerce is still happening. This is not an isolated example.
In Thailand, my contacts tell me employment is so strong it's hard to even find service staff for bars and restaurants. And this is in a place that was recently devastated by floods.
Simon has written about the booms in Cambodia, and Mongolia. Myanmar is slowly but surely opening up, and there are already hordes of opportunity seekers descending on Yangon.
It's a message that we've stressed in our conversations with you before. But, it bears repeating. If you're willing to look beyond your current horizons, there are alternatives out there.
And the message is getting out.
When I first moved to the Philippines 14 years ago, young expats like me were VERY thin on the ground. Sure, there was a motley assortment of non-natives living here. But they were generally older, grizzled veterans, if you know what I mean.
Nowadays, I see many younger people, including those with families. More tourists are also coming. One of the biggest new groups of visitors are the Russians.
Already a force in the Thai tourism industry, Russians appear to be checking out the Philippines as well. My wife reports that the area where she has her surf hotel is bustling with Russian kite surfers now.
Back here in Manila's CBD where I spend most of my time, I don't think it's an exaggeration to say that the whole character of the place is changing. And there is lots of opportunity.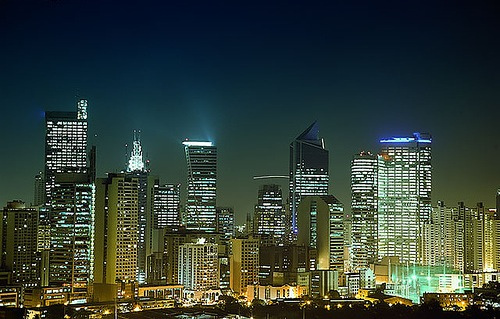 Manila's modern and exciting central business district
I have ideas for at least 3 businesses that could be a big success here — two in real estate, and one that would utilize the large pool of educated, English speaking labor here to provide a service that could be marketed internationally.
I don't have the time to execute on these ideas at the present time. But, if anyone is interested in hearing about them, or willing to roll up their sleeves and help me make them a reality, I'd be interested to hear from you.
If you're stuck in a rut back home and finding fulfillment in life hard to come by, or you just aren't seeing any opportunities, I urge you to look internationally.
I did it. As a young graduate straight out of the Australian National University, I headed off to work in South Korea. I haven't looked back since. I couldn't imagine a life that wasn't filled with new and different experiences all around the world. This is my reality.
Talking the talk is one thing. Walking the walk is something entirely different. And one of my resolutions this year is to help more people in this community actually EXECUTE on the things that we talk about.
If only 1% of the people who read this take action, it will have been well worth it. As Simon often asks, "What's holding you back?"