May 31, 2011
Santiago, Chile
As I told Sovereign Man: Confidential subscribers on our monthly teleconference yesterday afternoon, I've been focused over the last several months on sniffing out the best deals in Chilean farmland for our planned resilient community. We're definitely close.
My base in Chile is here in beautiful Santiago, however, and I wanted to take some time today and tell you about the real estate market in the city.
First, you should know that Santiago is a truly fantastic city. In terms of weather, you can hardly beat it: bright, blue sunny skies and a temperate, Mediterranean climate where it hardly rains. And yet, you're no more than an hour or two from both world-class ski resorts, as well as the beach. (note: the city does have a problem with smog which is worst in the winter time)
Furthermore, Santiago is just a nice, clean, modern, first world city… something like Madrid meets Chicago. It's a pedestrian-friendly city with great mass transit and a privatized highway system. There are parks everywhere among the sprawling towers, and you see locals everywhere enjoying a coffee in the city's numerous cafes and eateries.
(as an aside, Santiago has something you won't find in too many other places in the world… a concept called 'cafe con piernas' or coffee with legs. Think of it as a combination of Starbucks and Hooters…)
Most of all, this place is civilized; Santiago is devoid of the sort of destitute squalor you would expect of a Latin American capital. Obviously some parts of town are nicer than others, but overall I find it every bit as nice as Europe or North America with every amenity you could ever want or need, and all at a pretty nice cost of living discount.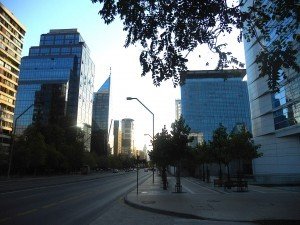 Compared to what I've seen elsewhere around the world, real estate in Chile (and Santiago in general) is a relative bargain. Bear in mind, I think about real estate in terms of square meters, which for our metric challenged readers is 10.76 square feet… so a 1,500 square foot 3-bedroom home is about 140 square meters.
My unequivocal, universal standard for 'cheap' residential real estate in big cities is $1,000 per square meter. It's really hard to find this anymore in the world. Ecuador comes to mind– there are a number of good quality properties in Cuenca and Quito for $1,000 per square meter.
I've also seen a number of existing condos in Medellin, Colombia for this price, as well as parts of the Yucatan peninsula in Mexico (such as Merida).
In parts of Santiago, it's possible to find some bargain properties for $1,000 per square meter. In the area around Parque Forestal near in the center of town and the Bellas Artes district, you can find some lovely older properties for between $1,000 to $1,200 per square meter.
The construction quality is excellent– these buildings are solid concrete, built to last… and they're huge too. You can find many apartments in excess of 300 square meters (3,225 square feet) with a beautiful view overlooking the area's numerous parks.
The neighborhood is undergoing a gentrification process and is becoming popular now with young professionals, the art crowd, and Santiago's rapidly growing gay community… the triumvirate of a promising real estate market.
It's also a protected, historic area, so the chances of a new eyesore going in anytime soon are slim.
Property taxes are a joke; owners might pay $40 to $100 per year in taxes on a reasonably-sized apartment, while rents command a 6% yield at present. I expect the rental yield to increase over the years, along with property values, as supply is constrained and demand is increasing.
In other parts of Santiago– the upmarket areas of Vitacura, Las Condes, La Dehesa, or Providencia, property prices can run between $2,000 to $3,000 per square meter. This is much more expensive than downtown, but it's still quite reasonable to what I've seen elsewhere in the world, including in Argentina and Uruguay.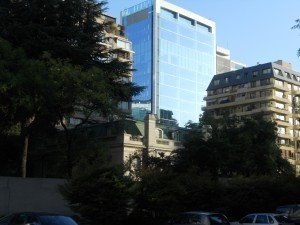 Even in Asia, which has some of the cheapest cost of living on the planet, it can be hard to find good quality construction for less than $2,000 per square meter. In Bangkok, many upmarket properties sell for in excess of $5,000 per square meter, no doubt a bubble fueled by cheap credit and Chairman Bernanke's exported monetary inflation.
Santiago has been much less prone to such speculative bubbles; the central bank here has taken rather steps to both hike interest rates and allow the peso to appreciate. In the face of coordinated currency devaluation and exchange rate games in just about every other country on the planet, these are undoubtedly bold moves.
The peso is now near its 10-year high against the dollar, and the central bank's benchmark interest rate is 5%. In the Greek-induced financial system meltdown part II that I expect to occur over the next 2-years, Chile will consequently emerge as one of the safe havens (i.e. least scathed countries) because of the responsibility it is taking now.