April 21, 2011
Asuncion, Paraguay
A friend of mine here in Asuncion is a partner in one of the leading investment firms in town. We were having drinks at my hotel the other evening talking about events around the world and thinking about what might happen next.
At one point he told me, "You know, I really feel like the decline of the dollar is going to cause a lot of problems in the world– rising prices, currency imbalances, social unrest… I feel very safe here in Paraguay though because we have everything we need: food, water, and energy."
He's right. Paraguay, usually overlooked, really does have just about everything that it needs.  There is so much land here available for livestock or crop production, and the country sits atop one of the world's greatest freshwater aquifers.
Meanwhile, businesses are feverishly growing alternative fuel crops, and Paraguay also boasts the largest hydroelectric facility in the world with an annual capacity of roughly 90 TWh; they use only a tiny fraction and export more than 85% to neighboring Brazil.
Paraguay's economy has benefitted from rising commodity prices and overall regional growth… and despite the government's occasional left-leaning saber-rattling on behalf of the rural poor, politicians generally tend to stay out of the way.
Paraguay's tax burden (as a percentage of GDP) is among the lowest in the world at around 12%, the same as Hong Kong. It's 28% in the US and averages 35% among OECD members.  For this reason, Paraguay is a mini tax haven… but not on anyone's radar.
Paraguay's individual income tax (first established in 2010, then temporarily suspended) is only 10%; it affects only the higher income earners, and it only applies to income sourced within Paraguay, not worldwide income.
I've read a few blogs that say Paraguay does not have an income tax. This is simply incorrect… one of the many inaccuracies I've been seeing lately from new monkey see, monkey do expat sites.
The Internet is both a blessing and a curse… and this is the curse– massive factual inaccuracies. The digital world has created a wiki-reality: if enough people believe it, then it must be true.
Internationalization is a rising trend and a lot of new 'experts' are jumping on the bandwagon. Unfortunately, this is leading to a lot of misinformation that gets recycled over and over across the blogosphere like a series of rip-off infomercials.
Here's the truth– establishing a second residency overseas is a great idea; it ensures that you have a place to go should you ever need to leave your home country, and it can even lead to an eventual second passport. Note: "second residency" doesn't necessarily mean that you have to spend time there.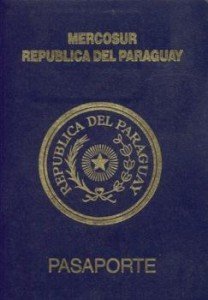 Places like Paraguay are ideally suited for a second residency. Why? Because of the country's political stability, energy and agricultural sustainability, low tax environment, and straightforward immigration procedure.
Make no mistake, though, there is an immigration procedure. Some people seem to think that you just show up, put some money in the bank, and apply for a passport. This is utter nonsense, and I always get a chuckle when I read such advice from people who obviously have little experience in the country.
I wrote about this at length in February's premium letter and even flew one of my local Paraguay contacts to our recent offshore workshop in Panama.  Needless to say, he was a popular guy at the event and has been quite busy in the past few weeks assisting many of our subscribers with their own residency here.
In the interest of accuracy and hopefully stopping the spread of misinformation, I'd like to provide a short summary of Paraguay's immigration procedure:
1) Obtain necessary documents from your home country, including a clean police report, birth certificate, marriage/divorce certificates as applicable. All need to be certified by the Paraguayan consulate that oversees the document's issuing jurisdiction.
You'll also need to provide a bank reference letter, and, depending on your passport (US and Canadian), a tourist visa to Paraguay.
2) Travel to Asuncion and submit your application in person.  Among other things, this requires establishing a local bank account with at least $5,500. Local bank rates are currently around 4% in USD, up to 12% in local currency. You'll also need a medical screening and various other requirements on the ground.
3) The permanent residency application takes up to 4-months to be approved, though it can be much less if you use a well-connected facilitator.
4) After three years as a permanent resident, you are entitled to apply for naturalization.
Clearly there are a lot more details and many situations that must be reviewed on a case-by-case basis. For example, do you hold a different citizenship as your country of birth? Do you require proof of funds? These may impact the situation.
As with most things, immigration procedure in Paraguay is all about who you know. The right contacts in Paraguay really streamline (NOT circumvent) the process.
Naturally, everyone pretends to be well connected.  I can't tell you how many places I've been where people claim to have an 'in' with the President.
Just like relying on misinformation, working with the wrong people is a surefire way to lose money… or worse… get caught up in some illicit forgery or bribery scandal.  It's simply not worth it.
Trusted contacts are worth their weight in silver.