December 16, 2011
Santiago, Chile
It's done. Yesterday afternoon, after years of searching, months of preparation, and weeks of stress, my wonderful partners and I closed on a gorgeous farm in central Chile, about 2 1/2 hours south of Santiago.
The land is over 1,000 acres of productive crops, plentiful water, mountainous horse trails, and insanely beautiful views. It's situated off the beaten path, but not isolated from civilization.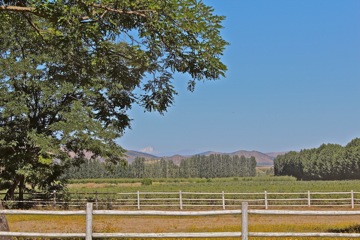 The location is a dream. Within an hour's drive, there are world-class (and mostly empty) surf spots, Andean ski areas, golf courses, thermal hot springs, polo fields, casinos, and more wineries than you could imagine.
When I look around at what's happening in the world, I really don't think the timing could be better. It's a safe haven among safe havens– a place that, no matter what happens, we will control our own organic food, clean water, and renewable energy.
Europe can keep kicking the can down the road, the Fed can keep printing, and the entire financial system can plunge into chaos. It won't matter for those of us down here.
And, should the impossible happen and world governments suddenly embrace fiscal and monetary discipline, we won't be worse off for it… and we'll still have the option of turning a tidy profit by selling hundreds of thousands of kilograms worth of organic fruits, vegetables, and livestock into the market.
I'll have more on this in future letters. For now, let's move on to questions.
First, Cara asks, "Simon, I know you've been vocal about encouraging young people to look abroad for better opportunities. And I agree with you. I'm graduating in the spring and there doesn't seem to be anything for me here. But every time I talk about going overseas, my friends and family try to talk me out of it."
This is really common. Look, most people know that the situation in their town and country isn't so great. But few will actually take action to do anything about it.
Hundreds, thousands of years ago, human survival depended on our willingness to take action. If Paleolithic hunter/gatherers didn't hunt or gather, they starved. Today we can just sit around on Facebook all day collecting food stamps and other entitlement benefits.
Moreover, there's a psychological tendency for people to feel threatened when anyone within their circle or peer group breaks away and does something different. Heading overseas to find better opportunity falls within this category.
So first they'll try to talk you out of it. They'll tell you that you're crazy and try to explain how RISKY it is to go abroad. They'll tell you that [insert country name] is dangerous or unstable. Bear in mind they have no idea what they're talking about.
Eventually they'll come to accept your decision, and then respect you for it. Then one day you'll start getting emails from people wondering how they too can follow in your footsteps.
Bottom line, if you really want to break free, most people will have to ignore their friends and family. Do what's right for you, not what's comfortable for everyone else.
Next, Marcos asks, "Simon, you wrote some time ago that you were thinking about shorting government bonds. I'm just curious if you ever did this."
Yes, I recently went short US Treasuries– I believe it was when the 10-year yield was about 1.85%.
Now, I dislike ETFs– the counterparty risk is just too high these days. But for the sake of convenience and a unique tax situation, one of the instruments I bought was a triple-short ETF (ticker symbol TYO).
For a much larger investment, I'm looking right now into shorting Japanese government bonds through an offshore broker; I'll let you know when and how I pull the trigger on this.
Last, Alan writes, "Simon, do you think that the IRS's foreign bank account reporting requirements for US citizens pose a drawback to having a foreign bank account? The penalty for not reporting is rather severe, I believe."
It's true that the US government has ramped up its reporting requirements for assets held offshore; this applies not only to US citizens, but US residents as well.
Here's the thing- we're talking about the most insolvent government in the world. In the history of the world, for that matter. Yes the tax reporting requirements for people holding assets overseas are getting more onerous. What makes you think that tax obligations for everyone else aren't going to get more onerous too?
The way I see it, -every- US taxpayer is going to be feeling the pain down the road. More forms, more paperwork, more reporting… and more taxes. Just wait for a national sales tax.
As long as you're going to be feeling the pain, you might as well have your assets safely tucked away overseas outside of the jurisdiction of your home government and creditors… in a place where the banks are actually solvent and reliable.
Hong Kong and Singapore are great places to start.
In the meantime, if you're a US taxpayer, make sure you file the appropriate forms. Noncompliance is simply not worth the hassle. For foreign bank accounts, this may include the TDF 90-22.1, schedule B of your 1040, plus the new FATCA form 8938.