Given its scenic beauty, relaxed pace of life, affordability and proximity to North America, Costa Rica has long been popular among American retirees. But the country is also increasingly popular among a younger generation of remote workers and digital nomads. Today, we take a look at some of the country's easy residency options.
Costa Rica just became a LOT more compelling as a Plan B destination…
When we last wrote about Costa Rica (CR) in 2016, the country didn't really tick the box as a "pure Plan B" destination. It was great for retirees, but not as a "paper residency".
The reason for this?
You had to spend a minimum of four months (or more) per year on the ground in order to renew your residency there.
But thanks to a number of recent changes to the country's residency requirements, Costa Rica is now once again worth revisiting as a second, back-up residency.
As was the case in many tourism dependent countries, the pandemic had a devastating impact on the country's finances.
So with a view to attract more investors, remote workers and digital nomads, its lawmakers implemented a number of legislative amendments to make the country's residency requirements more accessible.
As things stand today, there are at least three Costa Rican residency programs that should be on your radar…
Three highly accessible residency programs to choose from in CR…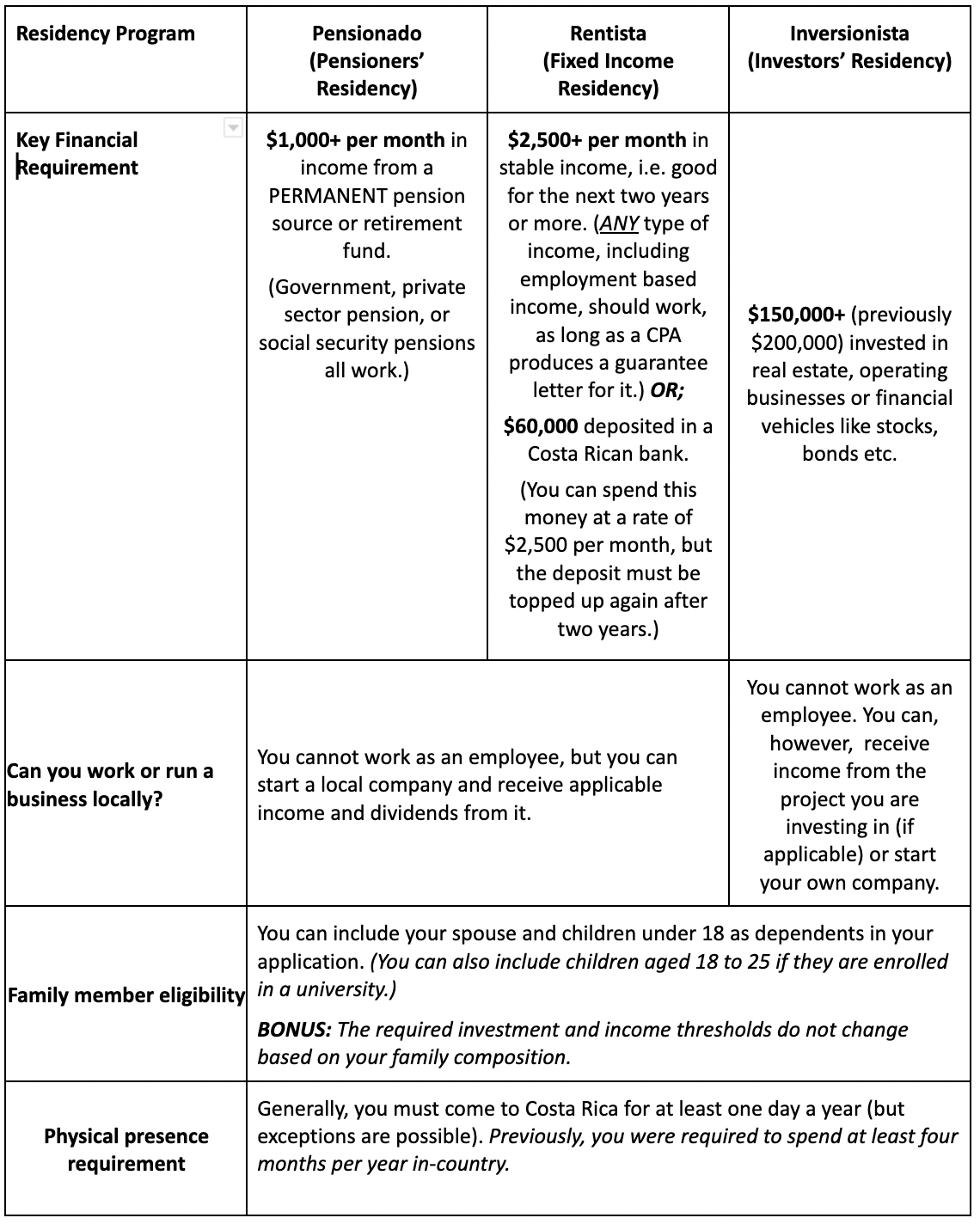 The above residency paths cater for just about everyone, and can put you on the path to eventual permanent residency and/or citizenship after seven years…
Costa Rican Residency: The key program changes at a glance
As you can see from the above table, the two main beneficial changes to the program have been the reduction of the minimum investment requirement for the investor track, and the radical reduction of the minimum stay requirement.
And unlike with, say, the Portuguese D7 Visa or Malaysia's now-controversial My Second Home (MM2H) program, the income requirements for both Costa Rica's Pensionado and Rentista tracks has remained unchanged – and low – despite the impact of inflation.
If you're not earning a permanent pension, then sufficient rental income or dividends work as well. And if you earn neither of these types of income, then the investor track remains a highly affordable investment-based option.
For a sense of comparison: In Panama, the minimum property investment requirement is currently $300,000 (and $500,000, starting on 15 October 2022).
And in Portugal the minimum required investment – in a 30 year old property outside of Lisbon, Porto or the Algarve – is €280,000 or more…
Whereas in Spain, you'll have to part with €500,000 to gain a "Plan B residency" in the form of their property based Golden Visa.
(Plus, in Costa Rica, you can buy any home on the open market, should a property investment be your preferred option, whereas in Portugal you can't.)
And if you're a digital nomad, you're in luck, too…
If you're not looking to obtain permanent residency status in CR in future, e.g. if you're just looking to spend a year in Costa Rica without the hassle of visa runs, then the country's Digital Nomad Visa can conveniently and affordably do the trick.
In order to qualify for this long-stay visa (it's good for 12 months), you must be earning at least $3,000 outside of Costa Rica, and $4,000 if you're applying as a family.
(NOTE: Total Access members, we're busy producing a comprehensive TA-exclusive country report on Costa Rica as we speak. Sovereign Confidential members – you can also expect to hear a lot more about this exciting country in the near future as well, so stay tuned.
The bottom-line?
When you add a low cost of living, stunning scenery and a thriving expat community to the above beneficial residency changes, Costa Rica really does start looking like an excellent Plan B option – for North Americans, in particular.
But as tourism-dependent countries start recovering from the adverse impacts of Covid-1984, it is unlikely that residency deals this good will stay around forever.