Looking for an alternative to the Portuguese Golden Visa in an idyllic island location? Offering residency for up to THREE generations of family members with a single €300,000 investment, Cyprus' Residency By Investment program packs a punch. Let's get into the details below.
The Republic of Cyprus is an island nation situated in the eastern Mediterranean Sea, south of Turkey. It is the third-largest island in the Mediterranean, offering a laid-back island lifestyle in close proximity to Europe. Almost everyone on the island speaks English, however it is worth noting that around one-third of the island is under Turkish control.
Boasting a population of around 1.2 million, the island has a rich shared cultural history, and it has been a significant trade port through the centuries. The country is also home to one of Europe's most compelling Golden Visa programs.
While the country's Citizenship By Investment program was shuttered in late 2021 following a raft of bad publicity, its Residency By Investment program
Let's have a look at how it stacks up against one of the most popular Portugal's Golden Visa below:
Portuguese Golden Visa vs Cypriot Residency By Investment program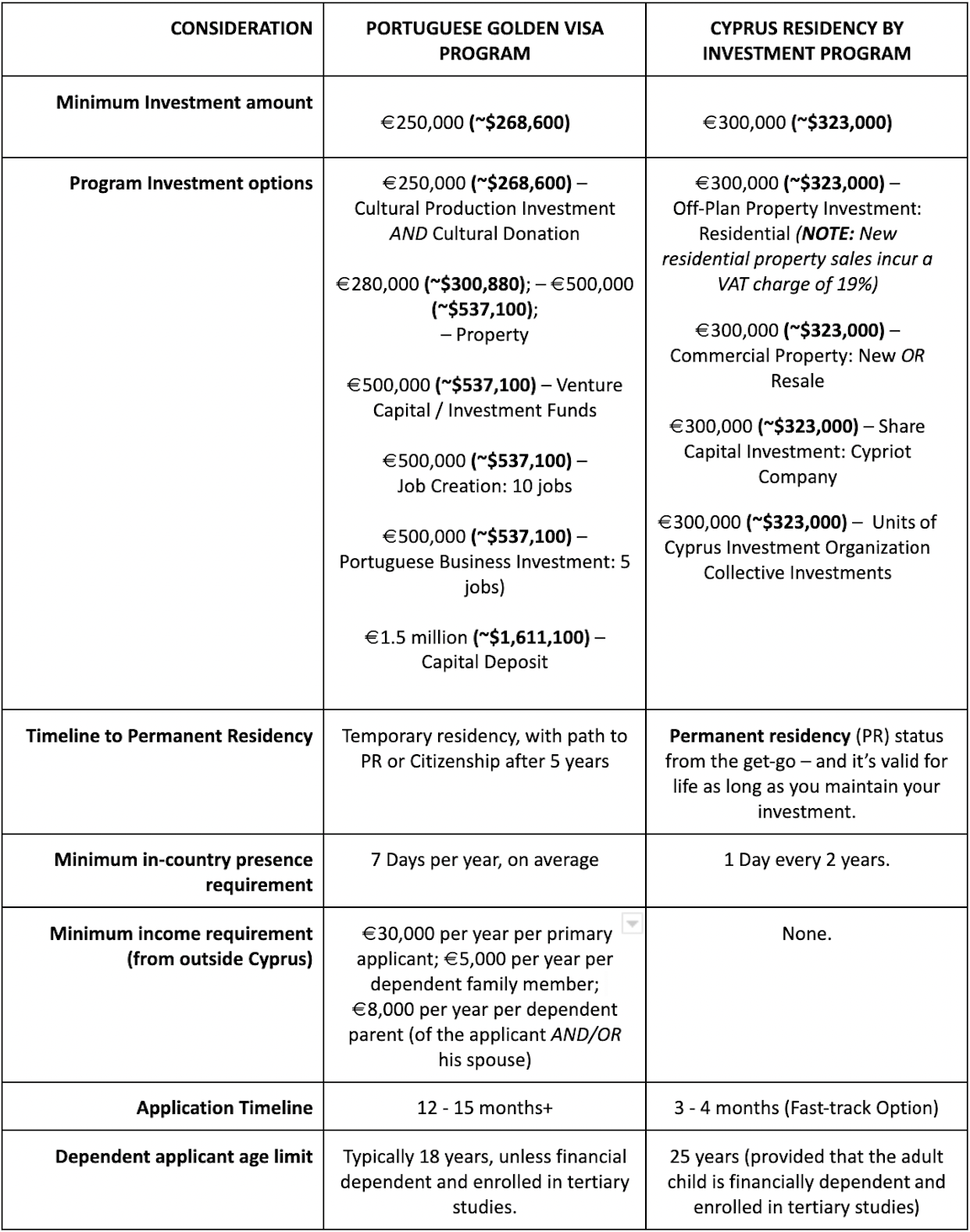 What makes the Cypriot program so compelling?
IMMEDIATE PERMANENT RESIDENCY: Unlike Portugal, Spain and Greece, Cyprus grants permanent residency to both the primary applicants and their dependents from the get-go.
SCHENGEN VISA-FREE TRAVEL (ONLY ONCE YOU NATURALIZE):

As Cypriot residents, you and your family will NOT enjoy visa-free access to the Schengen Area. (

Important: Cyprus is in the EU, but NOT part of the Schengen Area. Hence you will have to apply for a separate visa to visit this bloc as a Cypriot resident.) However, if you ever naturalize in Cyprus and become a citizen there, then you will have the right to travel to Schengen and importantly, also live in any other EU country.
THREE GENERATIONS ELIGIBLE: Whereas with many other Golden Visas your minor children will "drop out of the program" once they reach a certain age, the Cypriot program enables three generations – you and your spouse, your children AND your or your spouse's parents to become permanent residents for life. All with a single investment of €300,000.
LOW MINIMUM STAYS: Cyprus' in-country presence requirements are even more lenient than that of Portugal. You only need to visit the country once every two years.


What are the drawbacks of choosing Cyprus?

NON-MAINLAND LOCATION: Depending on your personal preferences, this may or may not be a problem for you. While air connectivity to Cyprus is fairly regular, being based there is not as convenient as being in continental Europe.
ROCKY BANKING SYSTEM: In mid-March 2013, Cyprus banking system hit rock-bottom, with daily withdrawals capped at €100 per account holder. So while Cyprus can be a great place to live – and an excellent Plan B destination, in particular – we wouldn't keep large amounts of our money there.
FEWER AMENITIES AND LESS CHOICES: Living on an island means having less choices: Fewer bars and restaurants, fewer and smaller retail outlets, fewer concerts, events and general activities. Again, depending on who you are and what you like, this may or may not be a problem.
NO ABILITY TO WORK LOCALLY: Unlike with the now-defunct Cypriot Citizenship By Investment program, you cannot get a local job in Cyprus (outside of your role as a director in a Cypriot company, should you opt for the business investment option).
The bottomline
If you don't mind your European Plan B destination being situated outside of continental Europe… And if you're looking to buy a holiday home in a capital city, rather than in the sticks… AND you'd like to gain residency for THREE generations of family members, rather than just for you and your spouse, then the Cypriot Residency By Investment program might be well worth considering.