March 5, 2014
En route to Colombia
"Putin: Unconstitutional coup is taking place in Ukraine. The U.S halted military cooperation and trade negotiations with Russia"
That's the headline from a Beijing newspaper– and no surprise that it leans slightly to the Russian side.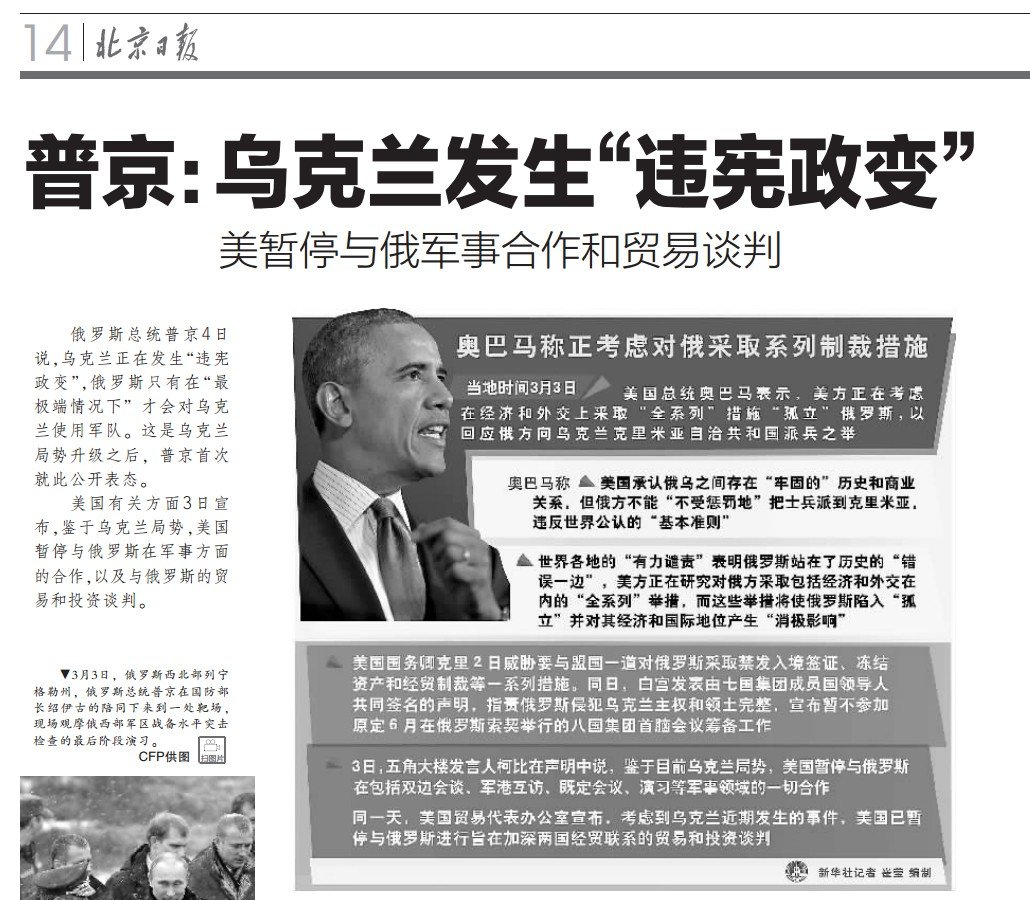 The article goes on:
"Russian president Putin said on 4th March that unconstitutional coup is taking place in Ukraine and Russia will only use the army to Ukraine under "the most extreme situation". This was the first time that Putin declared this publicly since the escalation of the situation in Ukraine."
"U.S. Secretary of State John Kerry threatened on March 2nd that the U.S and allied countries will take a series of actions including visa ban, capital controls, economic and trade sanctions, etc."
"The White House issued this in a joint statement signed by the Group of Seven member countries and accused Russia of violation of the territorial integrity of Ukraine. The White House also declared temporarily not to participate in the preparation for the G8 summit scheduled for June in Sochi, Russia."
— and of course :
"Chinese Permanent Representative to the United Nations Liu Jieyi called for dialogue of all sides to resolve differences and maintain regional peace and stability. The united nations security council held an emergency meeting on the Ukrainian situation. Liu Jieyi said in the meeting that China is deeply concerned about Ukrainian situation and condemn the extreme violence in Ukraine."
Meanwhile, Russian newspaper Itar Tass had this headline (loose translation):
"Putin: Those [foreign nations] who are talking about imposing sanctions on the Russian Federation should first consider the impact of those sanctions"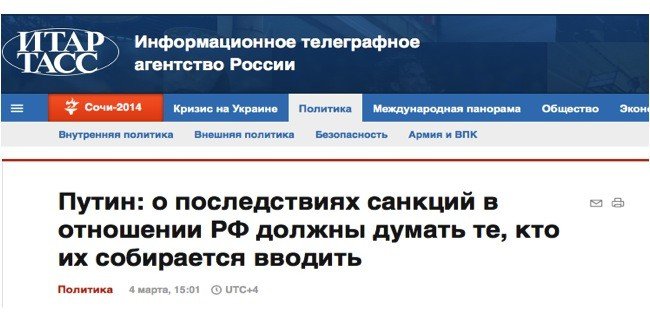 The article goes on:
"President Putin told reporters that the damage to all countries involved is mutual:
"We can cause damage to each other– mutual damage. And this needs to be thought about. . . We believe our actions are fully justified. And any threats to Russia are counterproductive and harmful."
Mr. Putin added that Russia is still preparing for upcoming G8 meeting.
"If [the other countries] do not want to come, they don't have to," he told reporters .
The Russian President also expressed the opinion that the U.S. has historically created its own geopolitical goals, and then dragging along the rest of the world underneath them:
"Our partners, especially in the U.S.– they always clearly formulate their geopolitical interests and pursue them very aggressively. Guided by the well-known phrase, "you are either with us or against us," they drag the rest of the world along, underneath them. And whoever doesn't go along is beaten and usually killed," the President told reporters.
He emphasized that Russia's actions come from legitimate grounds.So on one hand, the Chinese are essentially making the West out to be the belligerents, the Russians to be defending their interests, and the Chinese as the strong diplomats who are pushing for peace.
And on the other hand, the Russian papers are highlighting the utter hypocrisy of US foreign policy– it's OK for America to invade whatever country it likes, but not for Russia to defend its own interests.