The St. Kitts and Nevis citizenship by investment program is known for being one of the most established and long-lived programs in the Caribbean.
And if you are in the market for a new passport, 2018 may be the best time to buy one…
Several Caribbean citizenship by investment programs have gone ON SALE due to the devastating effects of the 2017 hurricane season– including St. Kitts who have slashed their donation price by $100,000 (more on that below).
In this article you'll learn everything you need to know about this program as well as some unique alternatives. (One of which may cost you next to nothing…)
In This In-Depth Article…
Looking For A Citizenship Through Investment?
St. Kitts is not the only option… Download our Citizenship By Investment Comparison Sheet to see ALL available programs side by side.
You could potentially save tens or even hundreds of thousands of dollars by picking the right passport for your personal situation at the lowest price…
Free Download:Citizenship-By-Investment Comparison Sheet
What Is Citizenship By Investment?
Before we get to the details of St. Kitts and Nevis' citizenship program, let's first review what citizenship by investment actually is and what kind of investment options are offered.
Traditionally, the main grounds for acquiring citizenship in a country were:
Birth within a country's territory
Descent from a citizen parent
Marriage to a citizen of a country, and finally
Naturalization (typically takes several years of residing in a country)
Citizenship by investment (CBI) programs allow you to obtain official citizenship, along with a passport, by donating money or making a (hefty) financial investment in the country.
Each option has its cons and pros. All Caribbean passport programs (including the Saint Kitts and Nevis passport) have the following options:
1. Donation to a government fund
Governments usually spend money collected through the funds on education, healthcare, infrastructure…
Technically it is a citizenship-by-donation option since you will not get your contribution back. That's an obvious downside.
The advantage of this option is that it is always the cheapest one available.
2. Purchasing an approved (and usually overpriced) St. Kitts real estate property
This option usually requires a much larger contribution. But because you're buying a real asset, you can likely get at least some of the money back. And if the local real estate market booms, you can do even better.
After a certain period, countries usually allow investors to sell the property.
However, don't buy a property there with just a profit in mind. It is far from guaranteed. Most often you will be buying a house or a unit in an overpriced government-approved luxurious real estate development or hotel project.
Timeline of Caribbean Citizenship By Investment Programs
There are more than ten citizenship by investment programs in the world today, with five of them in the Caribbean. Here is the timeline of their creation:


(We also included the non-Caribbean jurisdictions of Comoros and Vanuatu in this timeline for comparison.)
Why does this timeline matter?
To illustrate that the passport program of St. Kitts has been around for more than 30 years and has been setting the standard for the CBI industry for decades.
However, its program has traditionally been one of the most expensive ones in the region. Until recently.
Why Caribbean Passports Are On SALE Right Now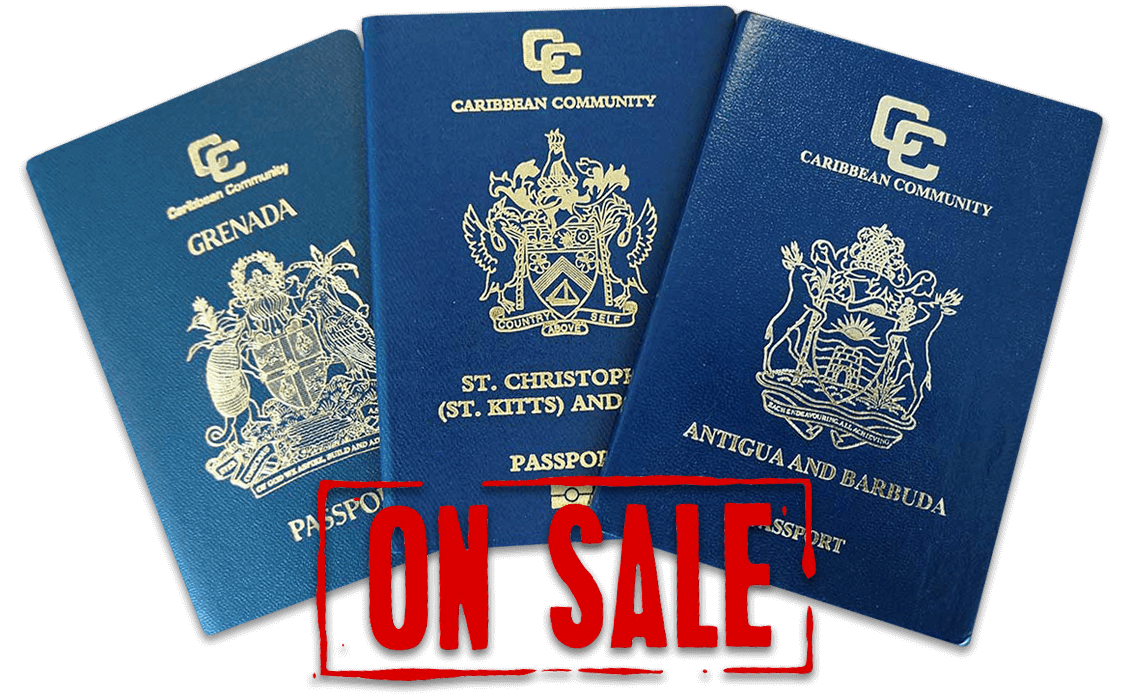 The history of many CBI programs aligns with the history of storms, because rebuilding the island nations after major natural disasters requires lots of money.
That said, 2017 has been especially challenging for many Caribbean nations.
Back in August-September, Hurricanes Irma and Maria swept through Saint Kitts and Nevis, Dominica, Antigua & Barbuda, Puerto Rico and many other island nations in the region.
No island in the way of these hurricanes – small or big, rich or poor – was spared…
All these nations depend on tourism for tax income. But after the hurricanes devastated the tourism infrastructure, their flow of tourists ceased, and the governments of the islands stopped getting the tax dollars they needed so badly.
However, a few nations in the region, including St. Kitts and Nevis had one reliable source of income they could still rely on – their citizenship by investment program.
And this program offers a passport for a steep discount today: instead of $250,000, you can get the St. Kitts and Nevis passport for $150,000 (for a single applicant)
Saint Kitts And Nevis Citizenship By Investment Options & Cost
Saint Kitts and Nevis made a big splash in October 2017 when it announced its new Hurricane Relief Fund. Just like the name suggests, the proceeds helped foot the $150+ million bill which the government faced to rebuild the public infrastructure damaged by Hurricanes Irma and Maria.
In this new fund, the government required a non-refundable contribution of $150,000 to qualify as a principal applicant. That's down from a minimum of $250,000 that they charged under their long-running Sugar Industry Diversification Foundation (SIDF).
However, this economic citizenship program in St. Kitts was designed to expire in March 31, 2018.
And if you think you've missed out on this sale already, we've got good news for you…
A new way to buy a citizenship in St. Kitts via the Sustainable Growth Fund has picked up the baton on that day. This new fund will invest in "healthcare, education, alternative energy, heritage, infrastructure, tourism and culture, climate change and resilience, and the promotion of indigenous entrepreneurship".
Just like the Hurricane Relief Fund, this fund will require a contribution of US$150,000 from a single applicant, exclusive of government fees. The contribution for a family of up to four will be $195,000.
The St. Kitts citizenship by investment real estate investment option will remain at $400,000 (and an additional $75,000 of government fees). This investment can be resold after five years.
You may become a citizen through an investment in a pre-approved real estate project in Saint Kitts, which includes hotel shares, villas, and condominium units. Click here to find the list of all approved real estate projects in Saint Kitts.
On April 1, 2018 the government has added a new twist to the real estate investment option – those willing to co-invest in St Kittian real estate in exchange for a passport now can split the $400,000 real estate purchase between two unrelated parties. The holding period in this case goes up to seven years. Now two independent applicants (or even families) can purchase an approved property worth $400,000 and receive passports in the country.
Option
Amount
Govt. Fees
Processing Fees
Donation
$150,000 for a single applicant;

$195,000 for a family of up to four.

Each additional dependent (regardless of age) – $25,000

None
$7,500 for a main applicant;

$4,000 for each dependent aged 16 and older

Real Estate
$400,000 minimum (plus applicable real estate transaction costs).

Two unrelated applicants can co-invest in a single project -,$200,000 each.

$75,000 (approximate)
$7,500 for a main applicant;

$4,000 for each dependent aged 16 and older
The government and processing fees are our best estimates. We will update this table with precise numbers once the government of Saint Kitts releases them.
Keep in mind, however, that additionally you'll have to pay a commission to an agent that will lodge your citizenship application to the government.
You can choose to work with a world-famous service provider and pay tens of thousands of dollars in fees, or work with a much smaller firm and pay a fraction of that. The end result, however, will generally be the same – second citizenship and a passport.
In any case, budget a $10,000 or more in additional fees for the service provider doing the work.
Here's the official site of St. Kitts and Nevis' citizenship by investment program.
Quality Of The St Kitts Passport
There are many ways to determine the quality of a passport. Size of the economy, the number of visa-free countries you can access, the country's geography and even its climate can all play a role.
When thinking about gaining a second passport, you should also consider personal presence requirements. St. Kitts and Nevis' residency requirements are non-existent.
Meaning: Saint Kitts does not require its new citizens to spend a single day on its soil since the application is done 100% online and via mail.
If you decide to immigrate to St Kitts or just spend significant time in the country, we have good news for you:
It is a beautiful tropical paradise worth spending time in
St Kitts and Nevis allows dual citizenship and does not require you to renounce your previous citizenship
There is no military conscription
Saint Kitts has no personal taxation. If you become a tax resident there, you will owe no income taxes to the island.
However, the most important criteria when assessing the quality of a passport is the number of visa-free countries its holders can visit.
The US and Canada for example grant their citizens visa-free travel to 170 or more countries, making these passports very valuable. For reference, the world's worst passports provide visa-free access to 60 countries or less.
The St Kitts and Nevis passport ranking doesn't disappoint. It provides access to 141 countries visa-free, including the UK, Brazil, and Schengen area (common European borderless area), but not to the US or Canada.
St. Kitts boasts the highest number of visa-free countries of all the Caribbean options. It offers 11 more destination than Saint Lucia, for example.
Does "More Visa-Free Countries" Equal "Better Passport"?
The answer is "it depends"… It depends on which additional countries you get and how likely you are to visit them.
For example, a passport may offer 10 additional countries, but also cost tens of thousands of dollars more… We encourage you to think it through carefully and consider whether these additional visa-free countries are worth the cost.
To help you do this, we've created a detailed Citizenship By Investment Comparison Sheet that shows you the differences in visa-free travel between all citizenship-by-investment passports.
Use this sheet to ensure you avoid overpaying for a passport that doesn't provide significantly more value.
Free Download:Citizenship-By-Investment Comparison Sheet
St. Kitts Citizenship & Passport Application Process
The St. Kitts and Nevis passport application, like other Caribbean countries' passport programs, claims the average time to process citizenship takes approximately three months when you elect for a donation. But, depending on your personal situation, delays might occur.
The real estate investment option is usually lengthier due to the additional steps involved in acquiring property.
Please note, you cannot apply directly with the St. Kitts and Nevis immigration department. Instead, you should contact an authorized Saint Kitts agent.
You can do your research and pick a person or a company you are comfortable with. Expect to pay in the range of $10,000 – $40,000 for the service, depending on the number of total applicants.
Can your Saint Kitts citizenship application get denied?
If you submit all the correct documentation, denials are rare. However, possible complications may include:
Being previously denied a visa to one of the countries with which St Kitts has a visa-free relationship.
Being a well-known figure or a politician with a chance of attracting adverse publicity.
Being a business owner or a professional in a high-risk litigation industry.
Proving the legitimacy of your wealth, etc.
Make sure you disclose your complications with your service provider of choice even before applying.
If you start the process and get denied in the middle of it, you will lose your government's due diligence fees and a portion of your commission paid to the service provider.
Alternative Citizenship By Investment Programs
The Saint Kitts and Nevis' citizenship by investment program is the oldest active program in the world, but it is not the only one.
We also have an in-depth article covering all currently available citizenship by investment programs that will give you an even better overview of all the options available to you.
But for this article, we want to highlight two other options in the Caribbean and compare them to St Kitts' program…
Saint Lucia's Citizenship by Investment Program (The Best Value Donation Option for Single Applicants)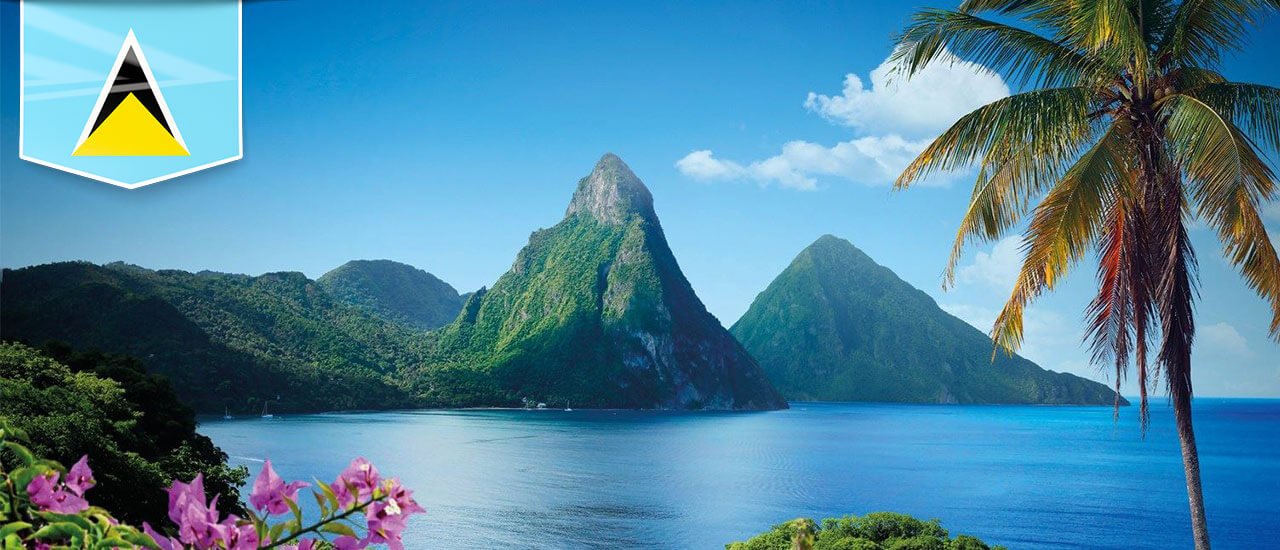 Saint Lucia's program is definitely the best value option for single applicants.
Started in 2016, Saint Lucia offers several options to obtain their passport (visa-free access to 130 countries, including the Schengen area and the UK).
First is a donation to their National Economic Fund (NEF). A single applicant will spend $109,500 all-in for this second passport route. And a family of four will spend $207,500 all-in.
(Again, you will need to add the service provider's commission to these numbers.)
And for the more expensive citizenship by investment options, you can invest either in real estate or government bonds.
Real estate requires a $300,000 minimum investment and is limited to high-end branded hotels and resorts and high-end boutique properties. All-in costs with fees is $452,500 for a family of four.
The government bond option requires investors to keep bonds for at least five years. These bonds don't pay any interest and are expensive – $550,000 for a family of four (and $617,500 in all-in costs).
You can get more details on Saint Lucia's official citizenship by investment website.
If you go for the donation option in St Lucia, you could save $48,000 as a single applicant and $5,000 as a family of four when compared to St Kitts.
The St Kitts passport does offer 11 more visa-free countries, but you should consider whether the additional countries matter to you and are worth an additional $48,000.
I encourage you to download our detailed Citizenship-By-Investment Comparison Sheet to find out, which additional countries St. Kitts offers over all the other option and decide how much they would be worth to you.
Antigua and Barbuda Citizenship by Investment Program (The Best Value Donation Option for Families)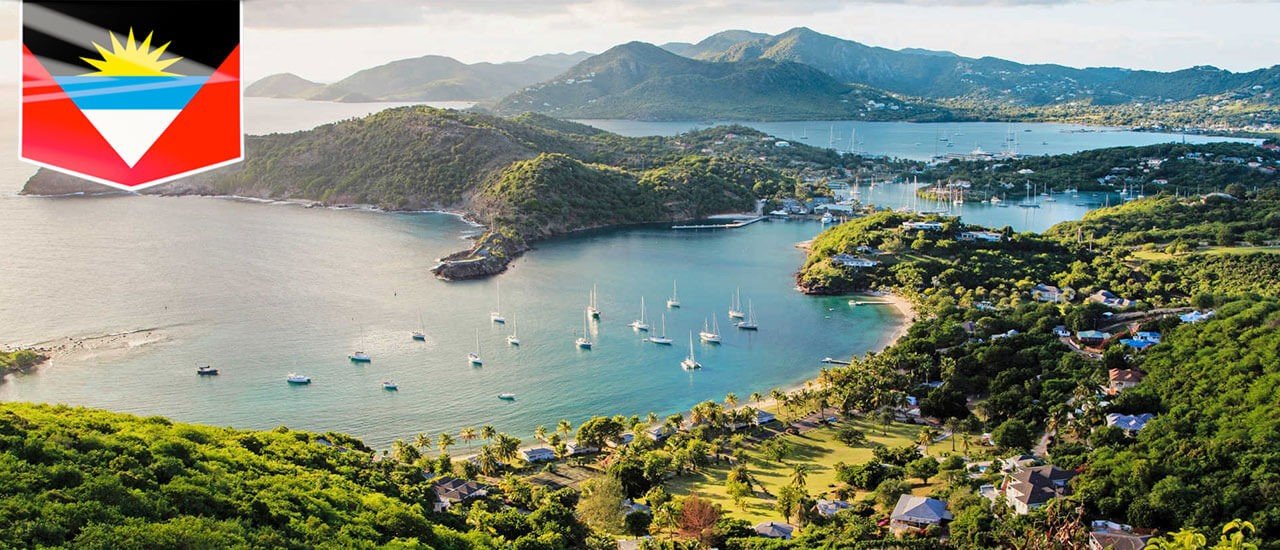 The National Development Fund is the country's cheapest passport option. In exchange for a $100,000 donation (with another $40,000 in fees), a family of four gets a second passport good for visa-free travel to 140 countries, including the EU's Schengen area, the United Kingdom and Brazil.
At $1,000 per visa-free country, Antigua and Barbuda's program is the best value for families compared to all other options.
Aside from the donation option, the country also offers investments in real estate and local businesses.
For a $400,000 minimum (plus fees of $65,000), you can purchase a government-approved real estate property. Exchanging this property for another government-approved property is possible, but you first must hold your initial property for five years.
Then there's the business investment option. We don't find this option to be especially compelling. Still, if interested, we've included a link to Antigua and Barbuda's list of approved business projects.
You can get more details in our in-depth article on Antigua & Barbuda citizenship by investment and on the government's official citizenship by investment website.
Antigua & Barbuda's donation option could save you over $60,000 compared to St. Kitt's donation option if you are a family of four.
Although both passports have a nearly identical visa-free country count, they still differ significantly. You can use our Citizenship-By-Investment Comparison Sheet to determine which one is better for your situation.
Alternative Ways To Obtain A Second Passport
Let's be straight – economic citizenships are not for everyone. We cover how to determine if citizenship by investment is right for you in this article.
If these programs are too expensive for you, don't fret. There are three other ways to obtain a second passport & citizenship:
Ancestry: If you are lucky enough to have parents, grandparents or even great-grandparents from the right country, you may already be eligible for a second passport through citizenship by descent.This is by far the cheapest and often the quickest way to qualify for a second passport. You can learn more about citizenship by descent in this in-depth article.
Time: If you are willing to pick up and move to a new country, this option may be for you. After you obtain permanent residency in a country, you can become

become eligible for a second passport through naturalization

. This option usually takes several years, but the advantage is that anyone can do this. And in some countries you don't actually have to spend much time to become eligible for a passport (but it is also not guaranteed that you will get one).
Flexibility: These are unconventional ways to get a second citizenship and passport, such as giving birth in a foreign country, marrying a foreign citizen or even changing your religion…
Final Remarks
If you don't have ancestors from Europe (citizenship by ancestry), or a few years to spare in a new country (citizenship by naturalization), and if donating $150,000+ won't make a severe dent in your budget, then you may want to consider economic citizenship.
And St Kitts' citizenship program is reputable and time-tested.
Its brand new Sustainable Growth Fund ($150,000 + fees donation option) is a much better deal than their long-running Sugar Industry Diversification Foundation ($250,000 + donation fees ).
Having a second passport as part of your Plan B can make all the difference. A Plan B ensures that if things get bad in your home country, you can still live, work, conduct business and travel. A Plan B is a crucial insurance policy.
It makes a lot of sense to think about your options and take action now.
And even if nothing happens, you've got a second passport from a tropical paradise.