March 24, 2014
Bali, Indonesia
Palladium is like the Rodney Dangerfield of precious metals. It never gets any respect.
If you ask someone about precious metals, in fact, just about everyone has heard of gold and silver. And occasionally platinum.
But palladium is one of those obscure precious metals that few people think about, or even know about.
Aside from actually having its own currency code (XPD), palladium is widely used in a variety of industrial applications, from spark plugs to catalytic converters to hydrocarbon 'cracking' to electronic components.
And here's something most people don't know: most of the world's palladium is mined in Russia.
Since October 2013, Palladium prices have had a moderate boost—about a 5.3% increase in five months.
But given what's happening in Russia, prices could soar. In fact, with trade sanctions looming, palladium could be taken off the world market indefinitely.
As the following chart shows, palladium has just broken out to a new 52-week high and is showing strong upward momentum.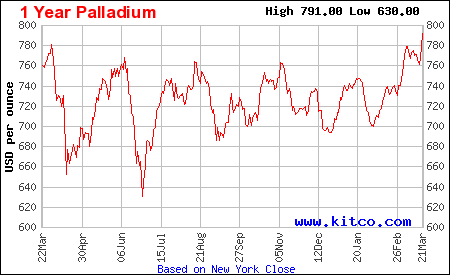 Moreover, if you look at the 5-year chart, it could be about to break out to even longer-term highs.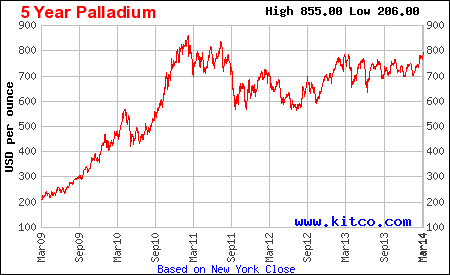 I would consider buying palladium today, with a stop-loss order to protect your capital, at $759. That means if the market should prove this thesis wrong, the loss would be limited to just 4%.
I think the near-term upside target is the 5-year high of $855. That's about an 8% gain from where we are today.
An upside of 8% versus a downside of 4% makes palladium a good risk/reward trade, given that the odds of the higher-price outcome are much better than the odds of the lower-price outcome.
But if tensions between the West and Russia escalate and trade sanctions stay in place for a prolonged period, $855 could be a very conservative upside target for palladium.
The last time Russia withheld palladium supplies from world markets back in 2000, the price rose 151% from a low of $433 in January 2000 to over $1,090 an ounce by January 2001.
In a scenario like that, palladium would be an incredibly profitable trade.
One easy way to take a position in palladium is via the ETFS Physical Palladium Shares (PALL on the New York Stock Exchange).
A new physical palladium ETF sponsored by Standard Bank has also just launched in South Africa.
And Absa Bank, which already sponsors the world's largest platinum-backed ETF, has also announced it will launch a palladium ETF called NewPalladium. It will list on the Johannesburg Stock Exchange on March 27th.
These new palladium ETF launches, coming at a time of tightening supply due to Russian sanctions, could easily add more upward momentum to palladium prices, as they will withdraw supply from the market to physically back their shares.
However, if you want to avoid the possibility of any counterparty risk, there's no substitute for owning the physical metal yourself.
The Royal Canadian Mint has in the past minted palladium versions of its very popular and instantly recognizable Maple Leaf bullion coins.
You can also buy 1 troy ounce palladium bars from most major dealers.